On Nov. 4, 2021, Dustin Huff tagged a buck that seems set to break Indiana's overall typical state record. Armed with his Stryker crossbow and Summit climbing tree stand, Dustin was hunting in Decatur Co., Indiana that fateful evening.
"When I first saw the buck, I was stunned!" the hunter reports. "I could tell he was huge, but I thought he was maybe a 180-class deer. It was a blur, but I didn't think he was a 200-class deer."
The crossbow hunter didn't know the giant was in the area, but soon he was face-to-face with the buck of a lifetime. Dustin admits his adrenaline surged as the buck turned and started walking his direction.
"As the buck made his way up the ridge toward me, I saw the side view of his rack and then saw all the mass. It was just an unreal sight. My initial thought was, This deer looks like a moose! It didn't even feel real, and time stood still."
As the deer approached, Dustin was ready for the shot of a lifetime. He was able to stop the buck at 40 yards, sending a Beman arrow tipped with a 2-blade Rage broadhead to its intended spot.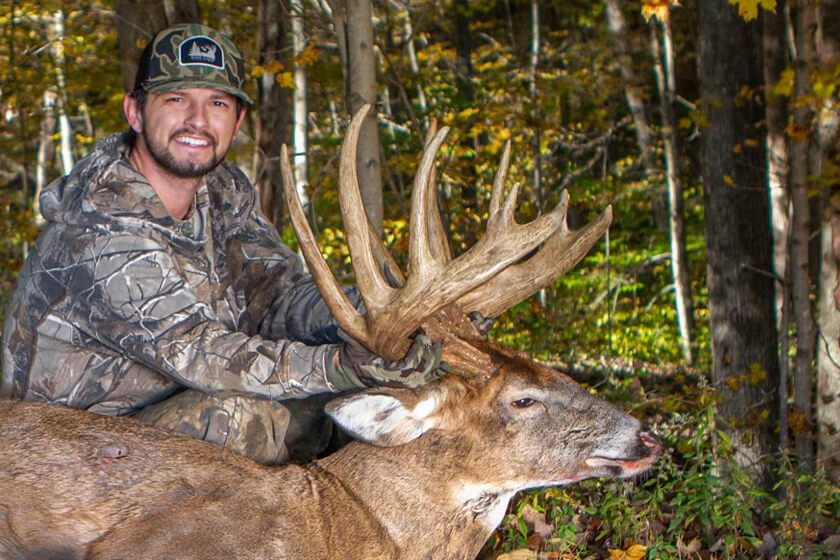 "After the shot, I was just so full of emotions," the hunter says. "I really didn't know the caliber of the deer until we got the deer back to the house and 'green' scored him at 212 inches gross."
This wasn't a deer Dustin knew, or even knew of. But as with so many other giant whitetails these days, it turned out he was known to some other local hunters. Dustin soon heard from neighbors who were hunting the deer, and they even shared trail camera photos of the enormous typical. Neighbors across the property from where Dustin was hunting had the buck on camera for the last couple of years, and they'd been hunting him hard.
Official Hoosier Record Book scorer Larry Walsman conducted a preliminary measuring of the rack, and it produced potentially historic numbers. The scoring session resulted in a green gross score of 213 1/8 inches and a net of 208 4/8!
If this net number holds after the mandatory 60-day drying period elapses, it's very likely the Huff buck will become Indiana's new state-record typical buck by any weapon, replacing Dave Roberts' 195 5/8 buck from Putnam County in 1985. But an official score in this ballpark would be even more significant than that.
Dustin's buck could become the new world-record crossbow typical, replacing Brad Jerman's 201 1/8 from Warren County, Ohio, in 2004. Dustin's buck also stands to best one of history's most famous and beloved typical whitetails, the current overall No. 2 all-time typical: James Jordan's 206 1/8 from Wisconsin, shot with a rifle way back in 1914. This would firmly nestle Dustin into the record books behind only the legendary Milo Hanson buck from Saskatchewan, Canada, which nets 213 5/8 and is the current overall world-record typical.
Dustin's mega-giant from the Hoosier state is truly among the greatest typicals ever killed. Some numbers from the preliminary scoring of the rack include an inside spread of 21 6/8 inches, 28-inch (right) and 27-inch (left) main beams, and several mass measurements of 7 inches. The G-2 tines are 12 5/8 inches.
When asked about Dustin's historic whitetail, North American Whitetail editor-in-chief Haynes Shelton passed along his congratulations and weighed in on the buck's significance.
"It was immediately clear from photographs that Dustin's buck is very special," Shelton notes. "But I was stunned to hear more information about the preliminary scoring of the rack. The typical category for both state and world records is perhaps the most exclusive, and that's why records like the Milo Hanson buck and James Jordan buck have held on so long. It's not every day a buck is taken that flirts with the scores of those special whitetails. I offer my sincere congratulations to Dustin on the successful hunt and am excited to hear more information as it becomes available."
NAW Editor Emeritus Gordon Whittington, who wrote the first feature on the Hanson buck nearly three decades ago and has spent his career documenting the history of world-class whitetails, says the Huff buck's rare combination of antler size and symmetry will make him a legend.
"When you get this much bone on a buck's head, normally there will be some non-typical points to significantly reduce the net typical score," Whittington explains. "But this buck's headgear is freakishly clean and balanced. This is the kind of trophy the B&C scoring system is intended to reward. I join many others in congratulating Dustin on his stunning achievement."
Stay tuned to the NAW website and social media feeds for more photos and additional details from Dustin's epic hunt, and be on the lookout for a full-length feature in a future issue of our magazine!