We have been watching this deer on our La Salle County, Texas, property for the past three years. We had just a handful of trail camera photos over that time period. We would get a couple of nighttime photos during the pre-season, and then he would disappear for the rest of the season. We hunted this spot on the ranch very hard the past two years, looking for this buck.
The only time this deer was ever seen in person was by my father, toward the end of last season. My dad was sitting on the ground in the area we had pictures of the deer, and he had the buck briefly out on a sendero at roughly 75 yards. He was an absolute monster, and my dad would've shot him that day if he hadn't broken off most of his main beam on one side.
Fast forward to opening weekend of the Managed Lands Deer program season this year, and I was back in the same area he had been seen. My dad and brother could not be there that weekend, so this meant I had first crack at him! The first day was very warm, and I saw plenty of bucks, just not the one I was after.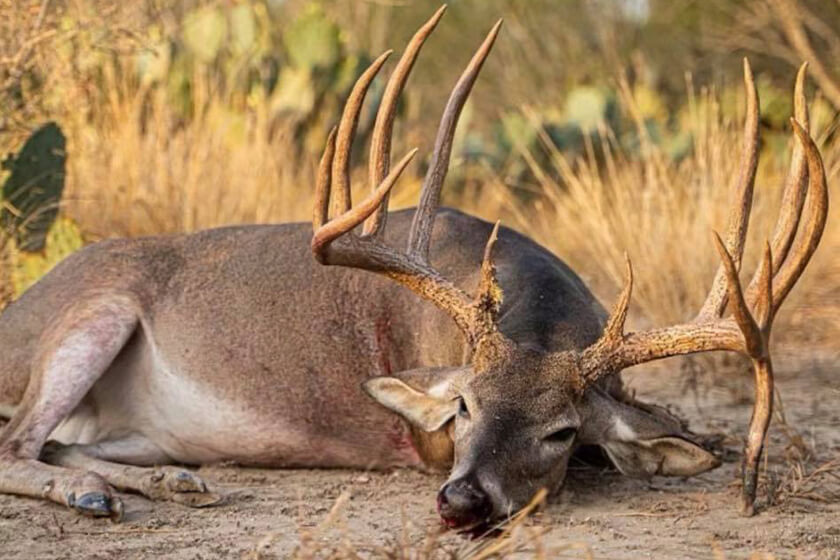 The next morning, Oct. 3, brought slightly better conditions: clear skies and cooler temps. After patiently waiting in the pitch dark for a couple of hours, the sun started to make its appearance. With the first bit of light, I could see a few deer moving around out in the field about 100 yards away. After staring through my binoculars for 10 minutes or so, trying to figure out what was what in the dim light, I caught a glimpse of a very large frame on one of the deer. Just the possibility that this could be him sent my heart rate through the roof and made me hyperventilate.

I decided to put the binoculars down and look at him through my scope, so I was ready to shoot as soon as I could confirm it was him. After watching him for a few minutes through the scope at 110 yards, perfectly broadside, he walked off into the thick brush. I thought my chance was blown, but I knew I didn't have enough light to be sure it was the right deer.
A little while later I saw him slowly making his way back to the open area through the thick brush. Suddenly, something spooked him, and he ran out into the open about 100 yards from me. He stopped broadside and turned his head directly away from me to look toward whatever had spooked him. At that moment, I found myself looking through the scope at the largest set of whitetail antlers I have ever laid eyes on. I took a couple of deep breaths to gain my composure, put the crosshairs on his shoulder, and squeezed one off.
After waiting about 20 minutes, I tracked a heavy blood trail for about 50 yards to find him lying dead, tucked behind a prickly pear cactus.
This ranch has been in our family since the late 1800s. It has always been a completely low-fence property, and I hope that it always will be. My family has hunted this property for several generations, and we work hard to practice strict management to maintain a healthy deer herd.
This is the highest-scoring deer killed on our ranch to date, grossing out at 206 7/8 inches. He was a typical 12 the last 2 years, and this year he grew the drop tine out of nowhere. We aged him at 7 1/2 years old. He will make the all-time B&C book as both a typical and a non-typical.