J.R. from Florida shares his story with World Class Hunting Ranch!
"Me and my daughter went to our lease and were on the hunt for a doe. Well when the does started to trickle into the plot, my daughter does not want to shoot a doe. She has a a lot of her daddy in her.:-) So we wait a few more minutes and out comes the biggest body deer(180 pound 8 point) I have ever harvested in Florida! No monster, but was a great day spent with my best bud. It's great when they just want to be with you, doing what u love to do, and making memories that will hopefully last a lifetime. (A few days later J.R. sent me this update!)
My youngest daughter killed her first deer this weekend! Her and I had a great hunt. I'm a proud parent, she could not stand having her older sister having all the fun!"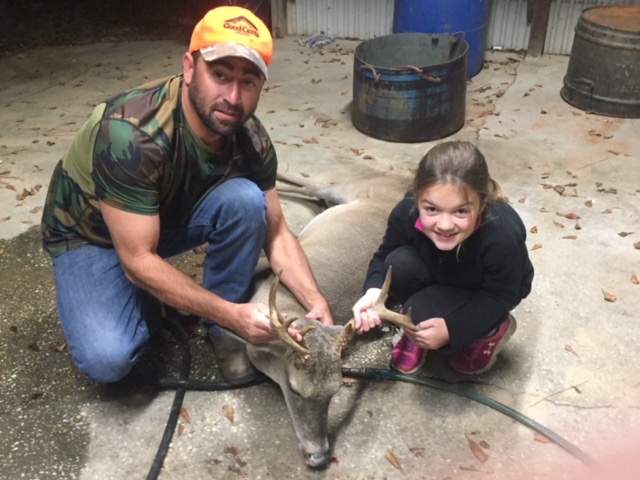 What an awesome story J.R.! This is what it is all about! And how great that you have a lease you are able to take your daughters, and harvest some nice bucks!
If you don't have your own farm, or a lease to take your sons or daughters, keep us in mind. We will be offering Father, son/daughter, as well as husband/ wife packages for the 2018 hunting season at World Class hunting ranch! You can expect affordable hunts, a great atmosphere, great food, awesome lodging, and a Great hunting experience at World Class Hunting Ranch. Our Ranch is 100 acres of high fence woods, and bean/corn fields. Our hunters will tell you, they have had a bigger challenge getting their deer on our 100 acre preserve, than they have on some of the huge ranches! Our guide Rich, is an avid Bow hunter, and would love to do more bow hunts in 2018. If you are interested in a Bow hunt of a Lifetime, call us soon, as we will only offer bow hunting from September 20th thru November 20th 2018.
We have had numerous Veterans, as well as active duty military on our hunts this season, and we appreciate your service to our Country! We are now offering a $500 discount for all Veterans/Active Duty, as well as disabled hunters. Our facilities are handicap accessible. Merry Christmas! And if you haven't heard, Bitcoin is a hot topic on the web right now:-) Have a Great Year! www.bestdeerhuntohio.com
Do you have a story to share? email me! wcwbooking@gmail.com
Ranch Manager – Owen M Yoder 330-763-3301